Cherry Picker Hire | Boom Lift Hire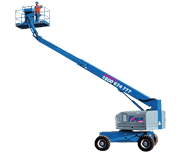 Force has a wide range of cherry pickers for hire (also known as boom lifts or telescopic booms), to provide an at-height solution when you need your elevated work platform to be compact and you require access to those tighter, harder to reach spaces. Cherry pickers also give you more manoeuvrability and height than a scissor lift can provide.
Force's fleet of Cherry Pickers (Boom Lifts) range from diesel to electric, with working heights from 10 metres up to 43 metres and horizontal outreach of up to 24 metres. Our Boom lifts also come with 4×4 drivetrains for those rugged outdoor worksites.
The full range of Boom Lifts:
Boom Lifts
Telescopic booms are colloquially known as cherry pickers. When they were first developed in Canada in the 1950s, they were recognised as a great aid in harvesting fruit, although their many other uses were discovered almost immediately. Force offers cherry picker hire throughout Australia, with offices in all the major cities and industrial areas.