Scissor Lift Hire | Scissor Lifts | Electric & Diesel Scissor Lifts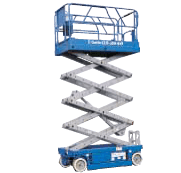 Force has a wide range of scissor lifts for hire to allow workers to perform safely in tight spaces .
Hire an at height scissor lift solution when you need your elevated work platform to be compact and easy to navigate. Our equipment and service support is of the highest standard, and is delivered to your required location on time.
Our Scissor Lifts can be used in various situations, from a rugged diesel scissor lift for rough outdoor terrain jobs or a quiet electric scissor lift model that be used indoor and on  flat surfaces.
When you hire a scissor lift from Force features include:
Extendable decks to reach over objects below
Self-propulsion
Manoeuvrability for work in tight spaces – indoor and outdoor
Auto-self levelling
Silenced muffler
Zero emission electric operation for indoor use
Motion sensors
Our scissor lifts cover a range of heights from 8m to 18m and provide space for one or multiple people plus tools and other equipment. Larger units even include an extending deck when extra work space is required.