Diesel Scissor Lifts | Scissor Lift Hire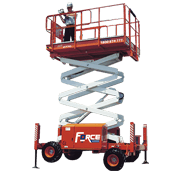 Force's Diesel Scissor lift range, or rough terrain scissor lifts, can reach heights of up to 18 metres, handle loads of 900 kilos and are four-wheel drive, perfect for those demanding outdoor worksites.
These heavy duty diesel scissor lifts are the most durable and all-terrain option when it comes to choosing your scissor lift. Our fleet of diesel machines offer huge platforms, rugged hydraulic stability, competitive lift speed, impressive work heights and heavy load capacities to get you working safely and efficiently.
These diesel units are perfect for companies and contractors who need a scissor lift that can work all day on site, where demands are high and an electrical hook-up may not be available. Ideal for construction, mining, shipping and other heavy-duty jobs, a diesel scissor lift is a highly adaptable and high capacity piece of kit; it will give your goods, materials and equipment a boost and put your people exactly where they're needed. Chances are excellent that one of the sizes below will fit your needs perfectly. Click to access the diagrams and specifications, or compare key statistics for each model on our scissor lift tables.
Our Diesel Scissor Lift range includes:
All of our Scissor Lifts are available for hire across Australia. The wide range allows you to meet the requirements of any vertical access task.